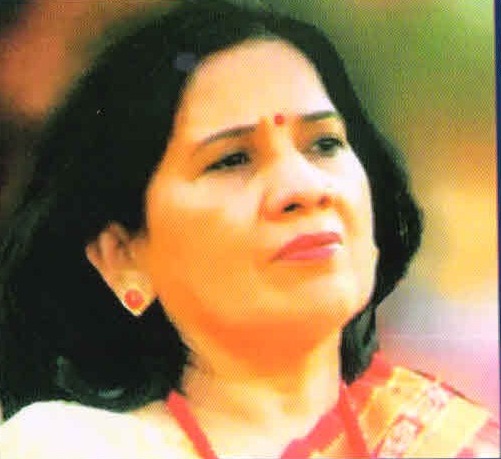 A wonderful serenity has taken possession of my entire soul.
Mrs.Kusum Singh
President
It gives me immense pleasure to write a message for the first issue of the School Magazine.In the past one year, our school has certainly grown both in terms of the infrastructure as well as the number of cocurricular and extra-curricular activities. Publication of the School Magazine is also a major achievement for the school. It not only makes the parents aware of the different activities that were held during the whole session,but also boosts the morale of the children who secure positions in various competitions organized throughout the year.
Regarding the vision of our school, I would like to mention that it is to be acknowledged as an institute which provides quality education with modern teaching techniques but with traditional roots attached to it. Our belief is that all children should have the opportunity to experience the joy of learning in such a way that they grasp all the basic concepts in the most efficient manner. To do so, learners must learn for meaningfulness. Rote learnt information is largely stored in the short-term memory and is quickly forgotten.The more the children see,the more they do and the more they do,the more they learn.If we can inculcate learning in a playful manner, it will help the child to come out with his/her unique ability and grow with confidence.At Ankur School, we hope to create an atmosphere of reverence for education and a healthy environment where studies,sports and co-curricular activities will mould our students and spur them to be the brightest and the best.In order to do this,the parents and the school authorities must worktogether to inculcate certain values among students.We are striving hard to reach every milestone in our journey to be one of the best schools in the tri-city.This can be made possible only with the cooperative attitude of the students as well as their parents.
Ankur School,I am glad to say,has proved that it can keep pace with the constantly changing world without compromising on its rich cultural legacy.I congratulate the Principal,staff and students for bringing laurels to the school in the past and hope they will continue their sincere efforts jointly in achieving the excellence in every field,particularly in academics and sports also.