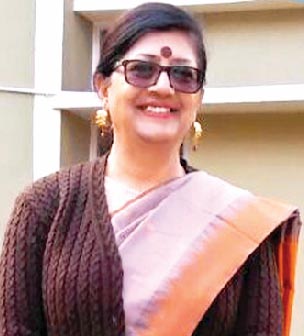 A wonderful serenity has taken possession of my entire soul.
Dr. (Mrs.) Parminder Duggal
PRINCIPAL
School is a place where a child grows mentally, physically and spiritually. It is a revered place where knowledge is being imparted to all irrespective of their caste,creed and colour.
I am highly honoured to welcome you to Ankur School,Panjab University,Chandigarh. We are very proud of our school and community and the people who make up our entire alma mater stand firmly.We are veryfortunate that we have a well qualified, caring staff with outstanding students and we keep on encouraging the students to not only become excellent performers in every field but above all,a good human being.
As we are stepping into a new session,our teachers have planned new activities,standards and rules,where children will reinforce themselves to learn and grow to the best of their abilities.
Knowledge is not only imparted through teachers but also through various activities, where students willthemselves think of the solutions to the problems, which are not restricted to academics but beyond, which will help them grow as a human being. Our institution endeavours to yield such students,preparingthem for the future. Our school is affiliated to C.B.S.E.The marvellous infrastructure, planned curriculum, co- curricular activities,and state-of –the-art labs make our institution the best.
We together we can build skills and knowledge,reinforce values and develop a strong sense of self worth. This will only be possible if we invest our valuable time in the growth of our children. We have been given untouched seeds,let's make these seeds turn into blooming flowers.That's all 'Ankur' is about. Please feel free to share your views,concerns and thoughts.We would love to hear about them. Thank you for handing over your most precious possessions to us and keeping the faith in us.We promise to give you the best.